New premises needed to store the archive
by Richard Millwood —
published

Jun 09, 2015 01:00 AM,
last modified

Jul 28, 2015 01:24 PM
The archive has been stored in surplus space in an Essex school since 2010, but it is now needed and the archive must move. If you know of any opportunity to store a room's worth of paperwork, resources and equipment, please get in touch with me Richard Millwood ASAP!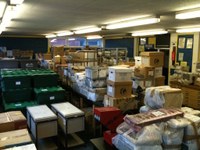 The archive fills a room, containing almost 300 boxes, 85 crates, 175 items of hardware and 13 filing cabinets.
You can contact me at richard.millwood@core-ed.org.uk or on +44 7790 558641