ULTRALAB AND ULTRAVERSITY RESTRUCTURED AND DOWNSIZED
Anglia Ruskin University has decided to restructure Ultralab at the end of 2006 to bring about the end of an era and new beginnings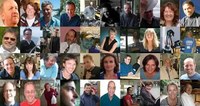 Ultralab team 2006
In December 2006, Ultralab, the learning technology research centre of Anglia Ruskin University, effectively closed by restructure and downsizing.
Four members of staff moved to the University's Centre for Learning and Teaching, now titled 'Inspire'.
The Ultraversity project continues in the shape of its largest and most successful activity, running the online degree BA Learning Technology Research. The staff developing and delivering this degree are moved to the Faculty of Education.
A further 22 staff left to start new activities outside the university.
In summary, at the start of 2007, the status and current email of the 40 staff who made up Ultralab is as follows: